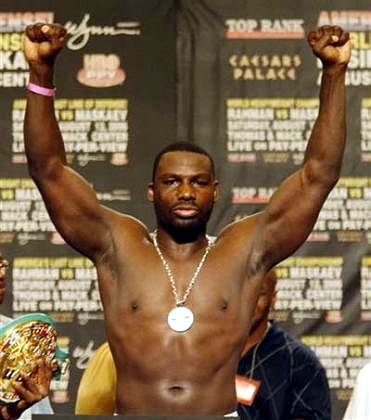 Former Heavyweight Champion Hasim Rahman will be the latest washed-up boxer to try MMA

Source
:
http://www.sherdog.com/news/articles/1/Former-Boxing-Champ-Rahman-Headed-to-MMA-16349
Not to sound cruel, but just as former football greats who could never recover from injury try their hand at boxing, it seems that a pattern of former top boxers who have reached the pinnacle of the ring are now trying to find some solace inside a cage.
While Rahman, who has still not said anything about fighting in MMA himself, will not be the latest to make the transition, he will be the most decorated.
Now don't get it twisted, this is not an all-time great in his prime going into a whole new arena. This is a fighter who struggled mightily against a former genuine bad ass fighter in James Toney who seems to train in the same bar as Tank Abbott (in all fairness to Mr. Abbott, he has never tested positive for steroids).
Shannon Briggs, a linear heavyweight who made a brief but successful transition into K-1, eventually got back his senses and went back to finish ruining a once burgeoning career.
Ray Mercer, who has lapsed his prime, was a former Olympic gold medalist who thought he was going to go toe to toe with the aforementioned Slice, but was out maneuvered and choked out by the glass-jawed, heavy handed bearded man in less than half a round.
Yes, there are other former heavy-waits, such as Franks Botha (K-1) and Butterbean (give this guy credit: he'll fight anyone, anywhere, any style) but neither had the same success they had in the ring.
So what are Rahman's chances?
Slim to none, but then again, read some of the past "Funny Money Only" picks.
Let's see: a 37-yr. old former hw champ with absolutely
zero
grappling skills and already on the down slide of a fairly successful boxing career going up against fighters who are used to using legs and limbs to get victory. Hmmm?
While Rahman will forever possess the proverbial "puncher's chance" moonlighters of the cage must remember that there is no "submission chance." That is a technique that can take years to master. And considering Rahman's laid back style and the fact that he has looked lethargic in his last few fights, it's easy to see him being beaten by Kimbo much the same way as Mercer.
Unless Rahman can commit to a consistent sprawl game and a sick stamina game, it's hard to see him beating anybody unless he taps their jaws and they go down. And in MMA, that is still no sure victory.