Saturday, October 18, 2008
Photo: Chris Farina
Pick at your own peril
Hopkins SD 12 Pavlik
Bisping W3 Leben
Vera KO2 Jardine
Posted by

NYC BMMA Fan
at 7:09 AM
1 comment:


Wednesday, October 15, 2008
Hopkins will make one last effort to win another meaningful fight while Pavlik looks to continue adding names to a burgeoning ledger
. Photo: www.dailylife.com
It's an age-old boxing tradition of the old warrior who refuses to go quietly and the young warrior who refuses to be ignored.
This will be the first time in a long time that Bernard Hopkins this will face a young, hard puncher who cannot be discouraged. For Hopkins to win this fight he will have to fight a perfect fight for every second that it lasts. For Kelly Pavlik, he just needs to do what he has been doing since his career started, apply constant pressure while allowing his conditioning and natural punching power to break his opponents will and body. Whether or not Pavlik can do this against the painfully defensive minded Hopkins is the question mark that will be answered this Saturday night in Atlantic City.
For Hopkins, who still trains with a passion that has carried him to a magnificent 20-year career, this fight has the capacity to catapult him from the greats of the sport to the all-time greats. These are the type of fighters that are remembered and reminisced long after they are gone. But it all depends on the type of fight Hopkins fights.
The last time Hopkins faced a fighter remotely close to Pavlik's style was nine years ago in his first match against a young and hungry Antwun Echols. It was a fight Hopkins won though grit, attrition and a whole lot of experience.
Both of Hopkins fights with Echols were grueling affairs
Pavlik, like Echols, is a young fighter who's riding a crest of highlight reel kayos and is all but too happy to hit the arms, chest, shoulders, and the kisser. He's a fighter who is as comfortable grinding out a victory ala Jermain Taylor in their first fight as he is chopping down a rugged veteran like Bronco McKart. The difference between Echols and Pavlik is that the latter has yet to taste defeat. And therein lies the intrigue to this match.
Hopkins is a boxing veteran like an army general. He lives for what he does and takes it very seriously. He likes the money but craves respect, no matter how many times it's earned.
Pavlik also has a pride of being the white kid from a small, Midwestern town and becoming more than a champion: A symbol of hope to the residents of his community, many of whom will make the trek East to support their local hero.
For all his accomplishments this is something Hopkins has never been able to achieve. Considering all the money he's already earned, this may be the driving force that has enabled Hopkins to further dismiss retirement and more time with his daughter. It is a vision he has even if he no longer has Bouie Fisher in his corner. The venerable trainer may have either advise Hopkins to skip this bout or help devise the perfect strategy.
The Hopkins that showed up against still undefeated Joe Calzaghe will not be near enough for the Pavlik. Pavlik is a relentless force who has been crushing his foes with ease that Hopkins would be wise to be a defensive genius with an executioner's mentality. Pavlik carries his power until the fight ends and he is looking to stop the never before stopped Hopkins, a bold yet dangerous move. Hopkins will bet on Pavlik bringing the fight to him. He will bet on smothering Pavlik's offense. But Hopkins better bet on making Pavlik pay or it could be the night the executioner was executed by a non-stop puncher who has the city of Youngstown on his wide shoulders.
Posted by

NYC BMMA Fan
at 1:22 AM
No comments:


Sunday, October 12, 2008
(for more:
www.fightnews.com
)
Though not the main character for Jim Croce's
Bad, Bad Leroy Brown
, Dawson is becoming a force in boxing today. He's young, undefeated and has a style which attracts both purists and fight fans alike.
He also has a quiet confidence about him that seems to be coming out of its shell and becoming a more boisterous swagger. While usually reserved, Dawson was quoted as saying that he's "boxing's pound for pound best" at the post-fight press conference where he won a well-earned decision over Antonio Tarver.
Dawson, who appears to be a competent boxer with good speed and respectable power, also has an air of vulnerability that make him a must see fighter.
Against Tarver, he seemed to unlock the riddle that is to decision a talented veteran over 12 rounds. Dawson appeared to be in control whenever he wanted to, releasing flurries that weren't meant to hurt his opponent as much as they were meant to build a comfortable lead, which he did; in spurts.
This is where the fabric of Dawson will be examined and will be criticized. After the midway point, he took every other round off and allowed Tarver to make a runaway fight a too close for comfort affair. Whether it was fear of his stamina betraying him against a wily veteran or whether it was his lack of superior conditioning being depleted from the flurries is a riddle in which only Dawson has the answer.
He has shown a shaky chin in his bigger fights. But he has also shown an impressive resolve. He gritted his teeth and fought back furiously after coming off the canvas against Tomasz Adamek. He also passed another gut check and remained on his feet and threw punches after the ageless Glen Johnson, with whom a rematch Dawson may not be able to escape, hurt him badly late in the fight.
Dawson may or may not be boxing's next luminescent crowned warrior. Only time and consistency against top-flight opponents will bring a finality to that riddle. But Dawson will always have a crowd because he can move, punch in flurries (and with effective power when he sits down on his punches), and can have his bell rung when faced with dangerous opponents. He may want to consult his long-lost twin, rapper Cam'ron, when it comes to the "swagger bragger" department.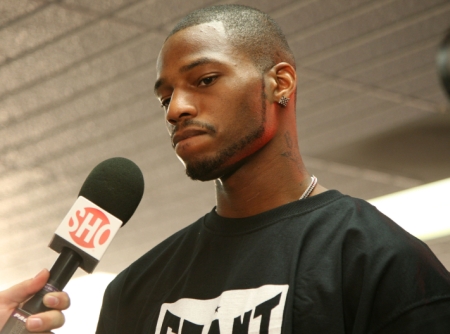 (
Dawson may want to hire his long-lost twin brother, Cam'ron, to help hype his next event
)
Posted by

NYC BMMA Fan
at 1:08 PM
No comments:


Fitness Jiu Jitsu