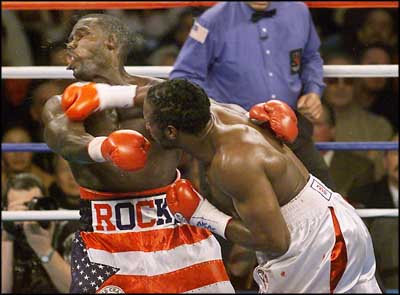 (
Lennox Lewis regains the heavyweight championship in emphatic fashion vs Hasim Rahman. For more: www.bruceongames.com
)
(
Frank Mir submits Brock Lesnar with a kneebar. For more: www.fightnews.com
)
With the recent annihilation of Kimbo Slice at the fists of Seth Petruzelli this past weekend, many fans could be heard either cheering in elation for the finality of yet another hyped-up banger or lamenting the fact that this would have been different in a boxing ring. And it is in this aspect of both combat sports that their will always be a silver lining.
While quick stoppages in either sport are nothing new (see Mike Tyson vs. any '80s opponent or BJ Penn vs Caol Uno), there will always room for what-ifs when fights are stopped by punches. Some fans are claiming Kimbo's loss was stopped too early (hardly). Others feel the result would have been different under boxing rules (duh!). And then there are the promoter's favorite fans: Those who want to see a rematch and feel a lucky punch was landed.
There is a glaring difference in the world of MMA when it comes to certain stoppages. No one, and this writer means no one, has commented that a fighter got in a "lucky" submission. The closest exclamation to his this kind of ending came when
Ryo Chonan submitted Anderson Silva,
the current pound-for-pound king, (with respects to George St. Pierre, you can't train a chin) in a fight in which he was being dominated and attempted and completed an improbable, highlight-reel submission.
It is the submission aspect of MMA that will forever be the deciding factor between MMA and boxing fans. There is no denying it takes much more all-around skill to compete in MMA. A good boxer will always have a puncher's chance. A good kickboxer will always have that plus a kicker's chance. And a jiu-jitsu/wrestler will always have the other's, plus the ability to take you down and either submit an opponent with a hold or pummel him into verbal/physical submission. Of course the latter takes much more technique than the former.
While a puncher will always have the option to close his eyes and go for broke, a jiu/jitsu/wrestler will never have that luxury. And it takes a skilled kickboxer to try that with a kick. And in a sport that oozes machismo (thank you, Razor Ramone) two men battling toe-to-toe will always be more aesthetically pleasing to the
average
fight fan.
The UFC, which is essentially neo-MMA, understood and respected this popular opinion and revamped its rules. Gone were the days where a legend like Royce Gracie could lay on the mat and take his time to implement his technique. Now, ground fighters had to do more than take an opponent off his feet. Now they had to add injury to take down and quickly, or the fight would be brought back to the standing position. While this obviously favors strikers, it also emphasizes the fact that fans would rather see a tactical battle than a plodding, albeit, technical ground game. This may also be because of the field of vision, but this writer would like to think that it's because of the higher possibility of a knockout.
Think of it as a batter and a pitcher, an analogy which has been made before. A batter is celebrated more and has a better chance of knocking one out the park, than a pitcher has a chance of throwing a curve ball or slider. The latter takes much more technique. And though they both need each other in the game of baseball, when was the last time the All-Star Game held a Strike Out Contest?
(
As long as boxing produces fighters like Muhammad Ali and Mike Tyson, there will always be those niche fans. For more: www.aolccdn.com
)
For Boxing, there will always be fans. From the bareknuckle days of John L. Sullivan to the flamboyant speed of Muhammad Ali to the aura of invincibility of Mike Tyson, boxing always had it fans. Even when K-1 kickboxing picked up a bit of steam, you had strong boxing PPV numbers. And even with the resurgence and dominance of the UFC, boxing will always have its fans who prefer plain ol' regular coffee. And then, you will always those fans who want the options of Starbucks.