(for more:
www.fightnews.com
)
Though not the main character for Jim Croce's
Bad, Bad Leroy Brown
, Dawson is becoming a force in boxing today. He's young, undefeated and has a style which attracts both purists and fight fans alike.
He also has a quiet confidence about him that seems to be coming out of its shell and becoming a more boisterous swagger. While usually reserved, Dawson was quoted as saying that he's "boxing's pound for pound best" at the post-fight press conference where he won a well-earned decision over Antonio Tarver.
Dawson, who appears to be a competent boxer with good speed and respectable power, also has an air of vulnerability that make him a must see fighter.
Against Tarver, he seemed to unlock the riddle that is to decision a talented veteran over 12 rounds. Dawson appeared to be in control whenever he wanted to, releasing flurries that weren't meant to hurt his opponent as much as they were meant to build a comfortable lead, which he did; in spurts.
This is where the fabric of Dawson will be examined and will be criticized. After the midway point, he took every other round off and allowed Tarver to make a runaway fight a too close for comfort affair. Whether it was fear of his stamina betraying him against a wily veteran or whether it was his lack of superior conditioning being depleted from the flurries is a riddle in which only Dawson has the answer.
He has shown a shaky chin in his bigger fights. But he has also shown an impressive resolve. He gritted his teeth and fought back furiously after coming off the canvas against Tomasz Adamek. He also passed another gut check and remained on his feet and threw punches after the ageless Glen Johnson, with whom a rematch Dawson may not be able to escape, hurt him badly late in the fight.
Dawson may or may not be boxing's next luminescent crowned warrior. Only time and consistency against top-flight opponents will bring a finality to that riddle. But Dawson will always have a crowd because he can move, punch in flurries (and with effective power when he sits down on his punches), and can have his bell rung when faced with dangerous opponents. He may want to consult his long-lost twin, rapper Cam'ron, when it comes to the "swagger bragger" department.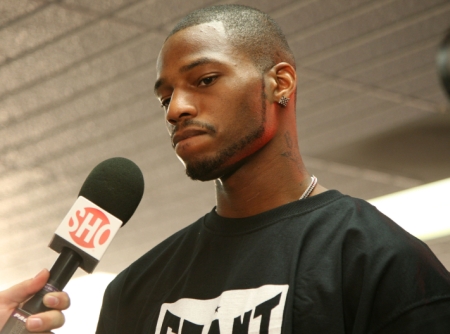 (
Dawson may want to hire his long-lost twin brother, Cam'ron, to help hype his next event
)