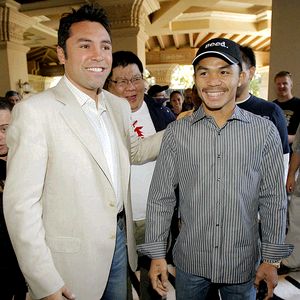 It almost seems like it's the mid-late 1990s. Oscar De La Hoya will perform his final in ring appearance (remember, this
is
boxing) on Dec. 6th against Lightweight champion--no typo--Manny Pacquiao. Luckily for Pacquiao, the "Mexican killer" this is a non-title fight.
For Oscar, this will not be the first time he fights a smaller opponent. He practically made a successful career out of it during his years as a lightweight/jr. welterweight. He won his first belt at jr. lightweight belt against the smaller Jimmy Bredahl. Then, he won his lightweight against former jr. lightweight champion John-John Molina and defended it against, you guessed it, jr. lightweight champion Genaro Hernandez and former jr.lightweight Jesse James Leija--all very capable fighters who went against a larger man. It was after these wins that Oscar stepped his game up, and weight, and fought talented men of equal or bigger size and had mostly good results (except for middleweight).
The difference here is that this fight is a non-title fight against a man who is an active and explosive powerpuncher. The other flip side to the coin is that Oscar will also be moving
down
in weight. Why Oscar chose to do this to himself as his final swan song is anyone's guess. That or he knew fans would not pay for such a huge weight difference.
The guess here is that if Oscar isn't weight drained for his final fight, he will still be the bigger, more experienced fighter come fight time. In Pac-Man, he will face an opponent who will not be weight drained and will come in at his heaviest. Pac-Man is also a non-stop power hitter. Oscar should still have enough strength to fend off Pac-Man and win a close decision possibly setting up a mega rematch; possibly.