(for more: boxnews.com)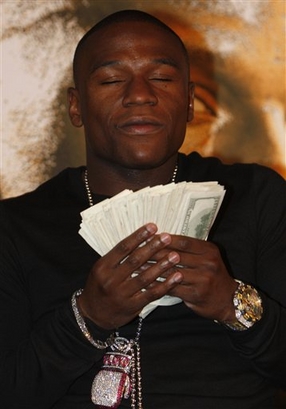 (The
ONLY REASON
Mayweather will face any of these two)
("
What about me
?")
Until Floyd Mayweather comes out of hibernation, aka retirement, the two best welterweights will put it all on the line for supremacy at 147 lbs. Antonio Margarito, the long-time welterweight contender will face the best contender for the throne, Miguel Cotto, this Saturday in Las Vegas.
Margarito could have been the mandatory for Mayweather had he started earlier and gotten past the third best welterweight, Paul "The Punisher" Williams. It was a close fight in which neither fighter set his dominance and Williams earned a close decision based on his earlier work rate. It was also a fight that got in the way of this one, as Cotto was set to face Margarito when the latter pulled out to defend his WBO crown against Williams. This made Cotto face a determined Shane Mosley in a career-defining win.
When breaking down this fight, it's hard to pick a clear cut winner. Both fighter's have the moxy to either grind out a decision win or a mi to late-round stoppage victory. But make no mistake about it, unless one fighter lands lightning in a bottle, this fight can't help but be a grueling war.
Of the two, Margarito seems to have the sturdier chin. He has faced strong punchers and has never been near defeat. Cotto, on the hand, has had his cranium cracked on a few occasions. He was badly wobbled and assisted in his hometown against
Demarcus "Chop Chop" Corley
. And against .
Ricardo Torres
, he was all but out until his heart and fists carried him to a stoppage win.
But this does not necessarily make Margarito a favorite for an early KO win. Margarito, though he does have a few early ko wins, is mostly a slow starter who gets stronger as the fight goes on; so does Cotto. But if money had to be bet on who would finish stronger, the bet may have to go to Margarito. In Margarito's biggest 12-round threat, he finished stronger against Williams than Cotto, who faded against the vastly more experienced Mosley.
So who will press the fight? The pick here is Margarito. He does not fight well going backward (ask Daniel Santos). Cotto has better lateral movement and uses angles to set up his opponents. Will this help him against Margarito? It definitely can't hurt.
The pick here, while tempting to go astray, is for Cotto. He has ridden the crest of success thus far like a locomotive. He looked like a bully in his last victory against
The Contender
star Alfonso Gomez. And his victory over Mosley, was the type of experience need to face a top contender like Margarito. So, unless Cotto gets caught early,look for him to grind out a tough, close unanimous decision over the most dangerous fighter at 147 lbs, outside of Mayweather.
And look for Oscar De La Hoya to either look away from the winner or to go out like a legend in a Hall of Fame career. Oh yeah, and Mayweather may be enticed to throw a few more Ben Franklins at the winner as well.