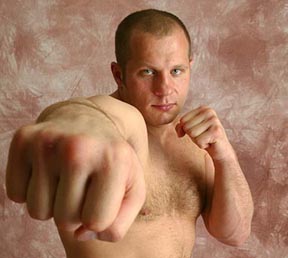 While the most up-to-date Nielsen and PPV numbers are being tallied, last night's winners have to tally their own worth.
MMA's best heavyweight, Fedor Emelianenko fought against MMA's best pound-for-pound fighter, Anderson Silva, though not in the cage/ring, but rather for viewership. Emelianenko continued his distinction as the best MMA heavyweight in the world with a 1st-round annihilation of former UFC Heavyweight Champion Tim Sylvia. After landing a series of punched that had Sylvia hurt and on the canvas, Fedor simply got his back and applied a chokehold that Sylvia could not resist.
Silva did just as good but with less effort. After James Irvin unleashed a left leg kick, Anderson caught it and countered with a right to the jaw that put "The Sandman" on the seat of his pant and then on his side. With Irvin not completely out, Anderson landed a few more punches, including a right that opened a nasty cut under Irvin's right eye. Silva said he plans on returning to the 185-lb. division after peering in and strolling thorugh the 205-lb division in his debut.
But which of the two 1-round winners really won? The pick would have to be Silva. Silva moved up against a bigger, hard punching contender, who had recently been on a ko-wining streak. Emelianenko, on the other hand, was the third man in a row to beat Sylvia. The best match for Emelianenko was and is agaisnt Randy "The Natural" Couture. For Sylvia, he may have to look up and put friendship aside as he takes on the man who may well turn out to be a champion (if he ever gets the shot), Lyoto Machida.
Either those opponents, or each other. And Silva needs to gain more than 20 pounds.